Having a particular affinity with cold case investigations and searching for answers to previously unsolved mysteries – Damian's investigative skills are comprehensive and wide-ranging. Utilising leading edge technology and contemporary investigative techniques as well as old school detective skills, no case is too complex nor too small, and providing professional all-round service with a personal touch is what sets Marrett Investigations apart.
Former Victoria Police Detective Damian Marrett is a leading investigative professional. Having served as one of Victoria Police's most successful covert operatives for many years, Damian has been involved in some of Australia's largest undercover investigations.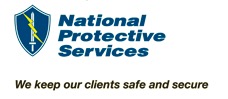 Customer driven and focused security services
Year after year, National Protective Services delivers unrivaled customer driven and focused security services to a list of residential, commercial, industrial, not for profit and government organisations throughout Australia.
National Protective Services commenced operations in 1988. Since this time, the company has provided its clients with stability, consistent award winning customer service and extensive experience. This expertise comes from a company that has a long history within the security industry, and a philosophy of working closely with a large and diverse customer base, to build strong and enduring partnerships that align with it's clients' objectives.